Bhumi Pednekar was a part of the 'Climate Warrior' initiative and had vocalised her concern for environment protection by raising awareness on climate preservation. Recently, in an instagram post Bhumi Pednekar announced that her 'Climate Warrior' initiative has inspired her to become a vegetarian. 
In the post Bhumi Pednekar has revealed that she wanted to go vegetarian for a long time, but it was difficult for her to let go of the old habits. However, her journey with Climate Warrior changed her as a person and taught her a lot. The journey motivated her to take the plunge. 
She also goes on to say that during the lockdown she has become a vegetarian and has informed her family that she will be giving up on non- non-vegetarian food. It's been a few months and she feels good, guilt-free and physically strong.
The 'Dum Laga Ke Haisha' actor wrote: "For many years I had the want to go vegetarian but breaking habits are the toughest thing to do. My journey with Climate Warrior taught me a lot of things and I just didn't feel like eating meat anymore."
Bhumi Pednekar has entered the list of various Bollywood actors who chose vegetarian diet as a way of life through her life-changing choice. As soon as made this declaration on her social media, a lot of celebrities congratulated and wished her the best on her decision. 
Anushka Sharma and Shraddha Kapoor, who too follow a vegetarian diet congratulated her and wrote, " Welcome to the club."  Anushka Sharma even shared Bhumi's post on her story to congratulate her.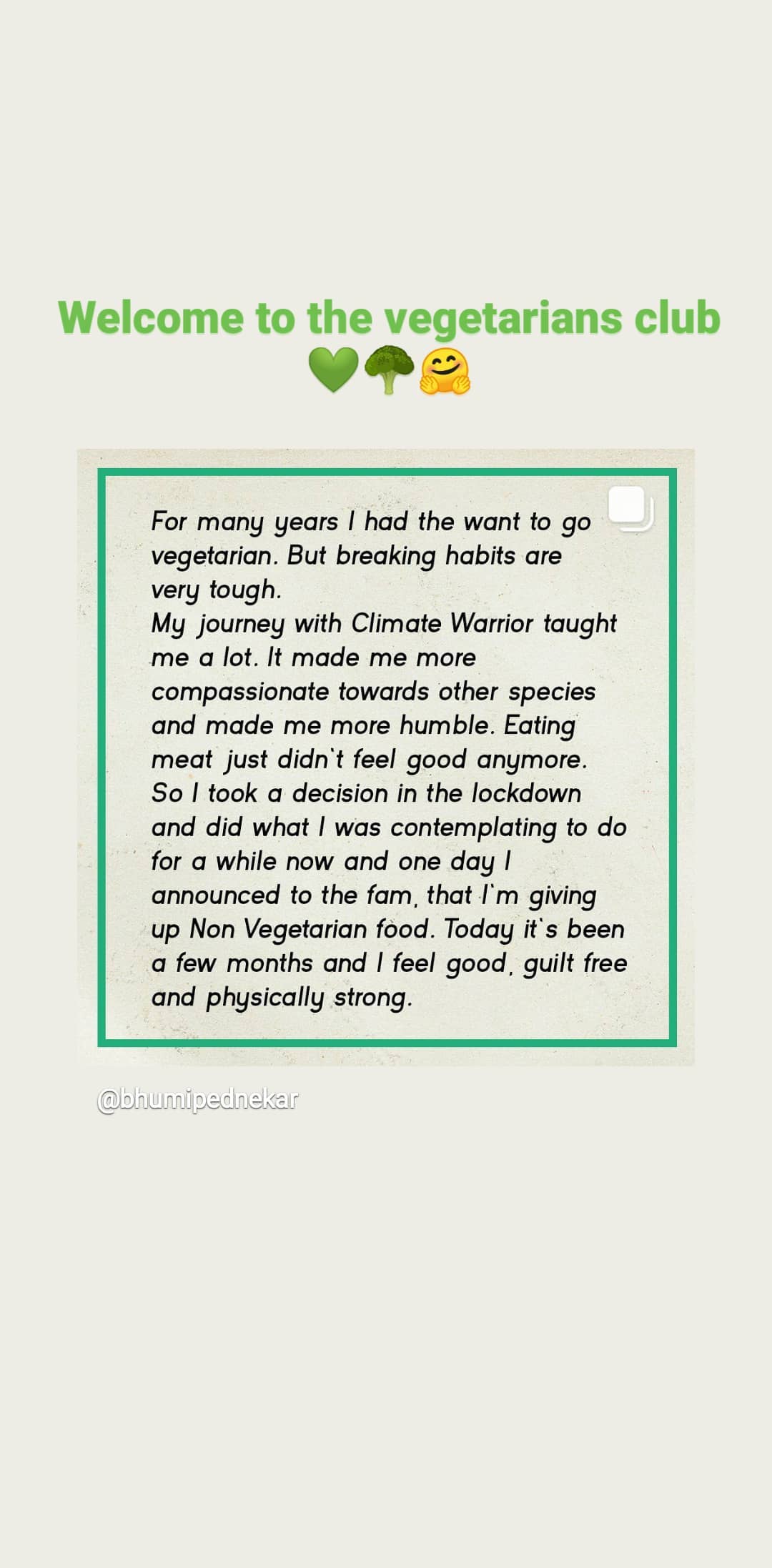 Some other Bollywood celebrities who congratulated Bhumi Pednekar include Dia Mirza, Kubra Sait and Tahira Kashyap Khurrana.Akansha Ranjan Kapoor wrote, "  Its gonna be the best decision of your life!!!! Trust meeeee!!! You're gonna feel great and vegetarian food is just so much better anywaaay 💪🏼❤️."
Renowned celebrity chef, Kelvin Cheung commented on Bhumi's post and wrote, "Well done. I'm still working on it."
On the work front, Bhumi pednekar is gearing up for her next film, 'Durgavati' set to release in December on Amazon Prime Video.