How to delete Instagram Account on iPhone App permanently & temporarily: Instagram is the Most-Used Photo & Video Sharing App with Social Connects. The Instagram accounts are deleted in more substantial number due to the Distraction. What may be the reason you have for removing your Instagram Account, Here I will explain you the process of "How to deactivate Instagram on iPhone" in Simple Steps.
Removing the Instagram Application from iPhone is Easier, it is as uninstall of any other app on Mobile. But when comes to Deleting the Instagram. The user can prefer deleting the application from further notifications and stay disconnected. If it is needed to remove the Complete Instagram Profile, Then we have no choice but to find the possibilities to do it.
Instagram users have Two options to make use of, While considered it as a distraction to your Lifestyle. One is Deactivate or Disable, and Another option is Delete Account Permanently.
Deactivate or Disable Account: It allows to recover the Instagram Controls whenever possible
Delete Account: It Permanently removes the Account from the Instagram Server, and the user can No Longer Access it.
One Mandatory Thing to do before you delete the Instagram account:
Every deleted Instagram cannot appear in search, but its complete data will be stored permanently in the Instagram server. So, before you remove the Instagram account, Delete all the Pictures and Videos uploaded on the Instagram App.
How to Delete Instagram Account on iPhone App permanently & temporarily: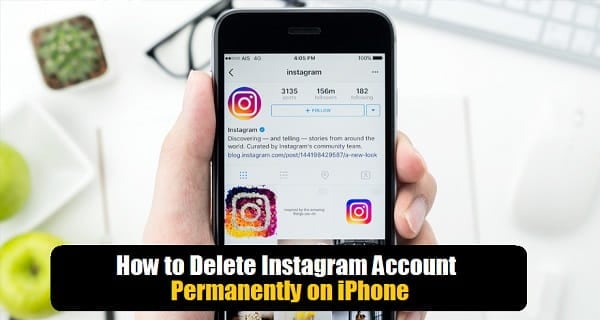 There is only one Method to delete Instagram Account, Choose the best one that is easy for you. All the Methods found on Internet leads finally to the same Guide explained here. This Guide is much understandable and straightforward in one Read. Going Through Instagram Account Help Center from Insta Profile will direct you to Remove Insta Account Request Section. read it below:
Using Direct Link to delete Instagram Account:
Step#1: Go to the Direct link of Instagram request here
Step#2: Login to Instagram Account
Step#3: Choose the one from the options
Step#4: Re-Center the Password and Confirm with "OK"
Done Instagram account will be deleted now and no one can find you on Instagram from this instant of time.
If the Instagram account is deleted, the Account cannot be regained or recovered with any trick as it is Permanent setup from Instagram Application. In case You want to hide your Account for some duration, Then you must go to "Disable Instagram Account Setup." Only Then you can activate it through the Normal Login Process.
If you disable the Instagram account,  That account will be Disabled until the Account User logins again. So it is better to disable or Deactivate Instagram account than deleting it Permanently.
How to Disable Instagram Account temporarily on Iphone:
Follow the below steps:
Login To Instagram.com Website and Login with Username & Password.
Click on Person Icon on Top Right.
Scroll Down and Click on Edit Profile Option.
Below all options, Find Temporarily Disable my Account and Click on it.
Now, Select the reason why you choose to disable Insta Account and re-enter Your Password.
Here you get the Final Step, Tap on " Temporarily Disable Account."
Done !, you have successfully come to know "how to deactivate Instagram on iPhone", and You can activate it again using your username & Password.
Finally, you got to know about the options for disconnecting Instagram account. Choose the best one that suits you depending on accessibility.
Do comment your views through the below section! Check out more articles on Instagram Tips.